11 mai 2010
2
11
/

05
/

mai
/

2010
00:15
There is no doubt that the 'social media' – blogs, facebook, twitter YouTube etc. – has opened up a plethora of new ways of communicating about wine. When anyone with a wireless connection can join in, the days of the omniscient wine critic are now surely numbered if not already over.
Naturally this time of change is exciting – just as it is exciting watching what is going on in British politics following our deadlocked election. (Difficult, incidentally, to concentrate on this post as the UK political landscape keeps changing!)


However, there are times when our excitement or infatuation with the new media leads to the medium becoming both the message and the medium. We put on blogging opportunities just because it can be done without asking to what purpose.
Last September I was at The Boutique Wineries tasting in London. During the walk-round tasting there was a blogging broadcast of the Port harvest going on in the Douro that day. Very few of the tasters appeared to take much notice of the scenes on the screen showing workers picking grapes. Hardly surprising as the Douro harvest, fascinating though it might be, was not why people had come to the tasting. It had no relevance.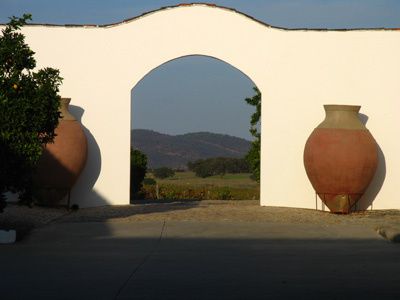 Fading light@Cortes de Cima


Then in late October I was at the Cortes de Cima on the eve of the Second European Wine Bloggers Conference in Lisbon. It was thought a good idea to do a simultaneous tasting with the small group of us who were at Cima (nearest train station Cuba but this is another story) with other bloggers who had already arrived in the conference hotel in Lisbon.

It was potentially a good idea to use a video but unfortunately no one had thought through how such a tasting would be meaningful. It had just been assumed that the medium without any tailored message would work by itself. Of course it didn't as tasters hove in and out of view.

Whatever the medium there has to be a clear purpose, which is why I'm also somewhat skeptical about a new development at this year's London International Wine Trade Fair – The Access Zone:
"The Access Zone" @ The 2010 London Wine Fair
At the London International Wine Fair 2010 Catavino will with the help of WineConversation.com, the EWBC, and Wineblogger.info bring you "The Access Zone" a place to meet up, and talk about wine online.
Stay tuned for updates and exciting announcements about what we'll be doing, and how you can get involved! Anyone can stop by to learn or teach, just let us know!

With 60+ meters to hang out at, there will be tastings, seminars, and plenty of interactive excitement for all of you to take part in. Free WIFI, powerpoints, and places to sit for all of you who want to blog, tweet, upload, or otherwise.
On top of this, we'll be making some big announcements this year, and you won't want to miss it!'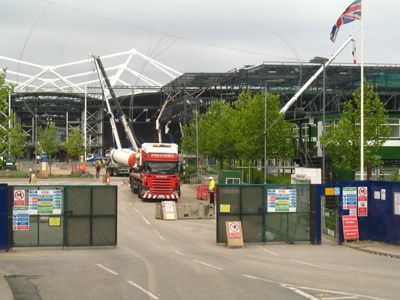 2009 Excel (exhibition centre) expands by 60%
I'm only at the fair for one day this year and I'll try to drop by but I'm not convinced that people come to the fair to blog and tweet (or twat perhaps). Don't they go to taste wine and meet people whether they are winemakers or importers etc.
In case all this makes me look anti social media this is far from the case – after all I do have two blogs and am a member of this fivesome! You can't, however, have the medium alone you have to have a worthwhile message.