30 mars 2010
2
30
/

03
/

mars
/

2010
09:19
I spent a very enjoyable three hours on Saturday afternoon in the centre of Tours tasting 2009s at the 8th Fête des Vins de Bourgueil. Broadly the wines divided into two – spring cuvées from vines planted on the gravel and wines to keep that will be bottled later from vines planted on the clay and limestone of the coteaux.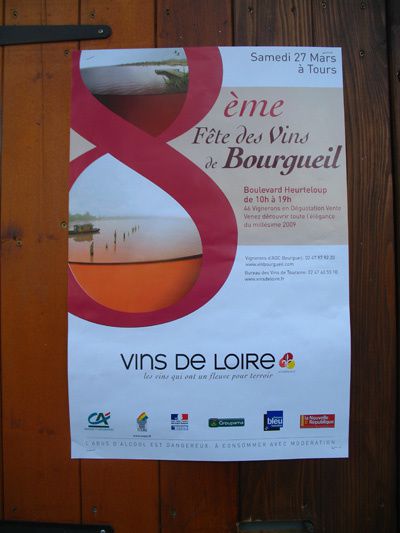 I was there
This is a clear example of terroir in action, even though the fruit in 2009 is so rich that I suspect many a 'light' spring cuvée would be a vin de garde in a more difficult and less generous year. It may well have been problematic in this vintage to make relatively light wines suitable to be slightly chilled for summer drinking.
The bigger cuvées of Bourgueil, as they do in Saint-Nicolas-de-Bourgueil and Chinon, invariably come from the clay limestone coteaux and the lightest from sandy soils close to La Loire.
Quite how grape juice and then wine come to reflect the place in which they are grown I'm not entirely certain. As far as I know scientific studies reject the notion that vine roots take up trace elements from the soil, which then end up in the grapes.
I suspect it is more the combination of soil, exposure, drainage etc. that makes the difference. In the other words a complex equation between the growing conditions and the vine.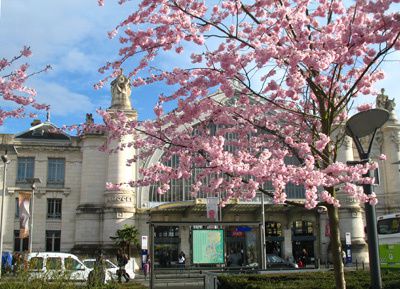 A la gare de Tours

I have never understood the notion that some places have terroir and some don't. Some places are certainly better adapted to growing grapes, others more suited to growing potatoes or for building houses. The Bourgueil tasting was held a very short step away from the central station of Tours. Given the magnificence of the station one has to conclude that this is ideal terroir for a railway station and probably would not have been ideal for vines. "La gare s'exprime son terroir!'
Give that the universality of terroir is self-evident, I was disappointed to read the following comments from Jane MacQuitty, The Times long-time wine correspondent in her column (http://www.timesonline.co.uk/tol/life_and_style/food_and_drink/article7077471.ece) last Saturday.
'New World winemakers loathe the French idea of terroir, the notion that the soil, climate, aspect and altitude of a slope all create a unique patch of dirt whose character is reflected in the wines that are made there each vintage and cannot be reproduced elsewhere.'

'Grape growers in New World countries, especially Australia, refuse to acknowledge terroir, dismissing it as self-serving mumbo jumbo.'

Doubtless Jane was deliberately exaggerating to make a point but it is, I'm afraid, lazy journalism – it just isn't true. Not sure however, that it fully deserved being described as 'drivel' on a popular wine forum.
If New World producers really didn't believe in terroir or a sense of place, then all the Chilean vineyards would still be on the flat Central Valley and the Casablanca, Apalta Valleys along with others would never have been developed. In Australia vines would not have been planted in the Adelaide Hills or in the Clare Valley. I could go on… Perhaps it really was drivel!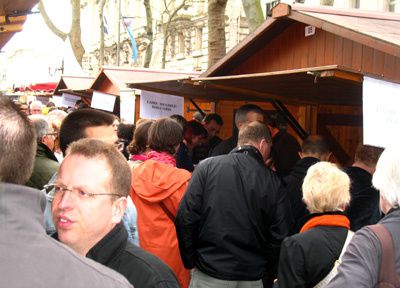 Crowd
Much more interesting than strident declarations about terroir is trying to tease out exactly why different locations affect the taste of the wine. To return to Saturday's Bourgueil tasting – why are the wines from the sand and gravel of Chouzé-sur-Loire different in flavour, structure and longevity from those of clay and limestone of Benais?
(c) Jim Budd