17 avril 2010
6
17
/

04
/

avril
/

2010
06:02
Over the last week or so, some of the colour has drained out of the UK's General Election – we cast our votes on Thursday 6th May. Sadly the only man I know who has ever marketed pipes of Ruby Port (Vintage Character) as an investment has been dropped by his party – UKIP (the UK Independence Party) – because of various skeletons rattling about in his cupboard.

Don't worry, this is not really a political post.

The colourful character is Stephen Cleeve, who was selected by UKIP to stand in the London constituency of Kensington against Tory (Conservative) grandee Sir Malcolm Rifkind.

Back in the mid-1990s, Cleeve was involved in two drink investment companies – the Napier Spirit Company flogging barrels of malt whisky as an investment and then Forrester & Lamego Ltd selling pipes of Duff Gordon Ruby Port (Duff Gordon is the second label of Osborne) and Cattier Champagne, on the premise that the millennium party would drain the world of Champagne, so that anyone holding stocks of Champagne would make a fortune. Predictably all of these get rich drink schemes proved to be completely illusionary – at least as far as the investors were concerned.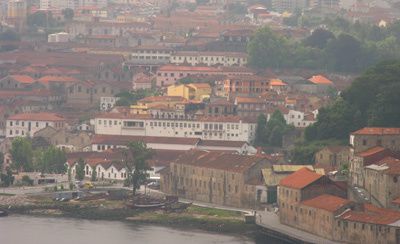 Misty Port

I have followed Stephen Cleeve's career since 1996 and I have to say that I think that he has not been given sufficient credit for a couple of strokes of genius.
Firstly, the company name – Forrester & Lamego Ltd – combining Port hero Baron Forrester with a leading Douro town has a wonderful patina of age despite a registration date of March 1996. A patina not appreciated by the UK Department of Trade & Industry who successfully petitioned to have the company closed in the public interest in July 1997. Cleeve was later banned from being a UK company director from 2000 to 2008.

And the second stroke? To promote Vintage Character Port (premium ruby) as an investment opportunity. Ten years later, in 2006, the price of Vintage Character was the same as it was in 1996 or even fractionally cheaper despite numerous rises in excise duty.

Of course, I'm aware that investors, who paid good money for 'investments' that proved to be worthless, will be less enamoured of Cleeve's 'genius'.

Cleeve later went into selling plots of agricultural land on the premise that it would be soon rezoned as building land, so would rocket in price. Investors soon discovered that the prospects of large profits were also illusionary. The land plotting schemes were promoted both in the UK and Australia. They were promoted with such enthusiasm in Australia that in 2005 Victoria and Western Australia issued public warnings against them.

Two things puzzle me in this tale.

Firstly, how did Stephen Cleeve think he could stand for parliament in a particularly high profile seat and not have his colourful past revealed? As soon as the news broke of Cleeve's candidature, the skeletons inevitably came tumbling out and he was soon suspended as UKIP's parliamentary candidate.

Secondly, Cleeve clearly is an energetic entrepreneur and I assume would achieve success if he chose more firmly based businesses. Perhaps the margins would be considerably lower…
(c) Jim Budd

Hetherington: Candidate quits after probe
http://www.thisismoney.co.uk/news/opinion/article.html?in_article_id=502649&in_page_id=19&in_author_id=5