16 février 2010
2
16
/

02
/

février
/

2010
00:16
It may well be a truism that fashion is a fickle mistress but no less true for that. There was a time when the UK drank container loads of Muscadet and Vinho Verde. In the late 1980s many a wine bar had at least one Muscadet on its wine list. Then fortune changed and people moved on. Muscadet become a drink of the past. It became seriously uncool to be seen with a bottle of Muscadet as it had a few years previously with Vinho Verde.

Some things deserve to go out of fashion and stay démodé– loon pants and platform heels, for example. Others do not fully deserve to be neglected and I think there is a case to be made with both Muscadet and Vinho Verde – both wonderful partners with fish. But I'm leaping a bit ahead of myself!
Muscadet's fall from grace is often ascribed to the severe April frost of 21st/22nd April 1991 that speedily reduced the 1991 vintage throughout much of Western France to a third of normal. Following the frost the price of Muscadet shot up and, as this coincided with the arrival of Australian wines on the UK market, customers rapidly changed their allegiance. Many never returned.
Critics cite the poor quality of Muscadet at the time, which I think is rather over doing it. Certainly there were some poor Muscadets – unripe and oversulphured – but there were also some very good ones as my first press trip the Pays Nantais in February 1989 clearly showed. The quality from producers such as Louis Métaireau and Sauvion et Fils didn't suddenly nosedive – they just went out of fashion. Once out of fashion it is usually so hard to regain recognition and credibility.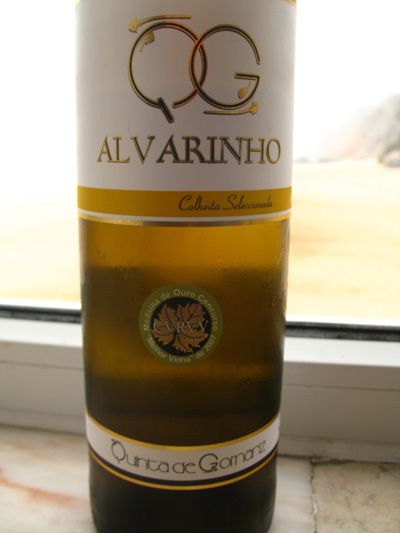 Quinta de Gomare
Vinho Verde and Muscadet have much in common. Neither are flashily aromatic unlike the often brazen but popular, Sauvignon Blanc. They do not not shout out their virtues but given a superb piece of grilled fish or a plateau de fruits de mer, I'd opt for one or the other every time in preference to a Sauvignon Blanc. My choice will depend upon which country I happen to be in and what is on the wine list.
One of the pleasures of spending some time in the Lisbon is the quality of the fresh fish – at its best plainly grilled. A citric and minerally Vinho Verde – usually an Alvarinho is the perfect wine – often nearly a fresh as the fish.
Fortunately it is still difficult to find bad food in Lisbon or in the neighbouring areas, especially if you stick to simply grilled food. But some venues stand out as especially good including one of Europe's most westerly restaurants (21-923-00-28) at the unspoilt Praia Adraga.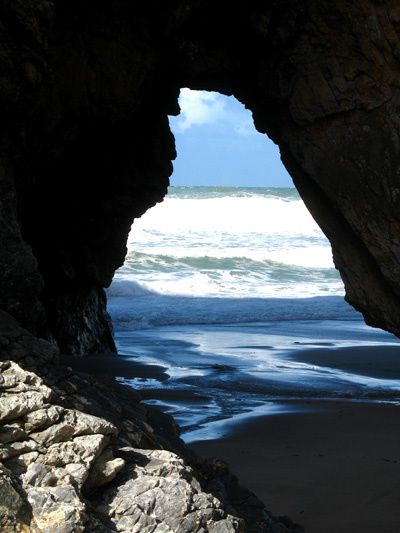 Praia Adraga
The restaurant sits just above the beach and, if you are lucky enough to get a table by the window, you look out over the Atlantic rollers – next land America. Start with a crab, then a sea bass for two accompanied by a bottle of Alvarinho either from Quinta de Gomariz or Muros Antigos. Perfection – simply delicious – who would want something more complicated?
Yesterday four of went across the Tagus on the ferry to Porto Brando and had lunch at Mare Viva (21-295-11-34). To accompany our Arroz da Tamboril (monkfish) and the mixed seafood cataplana we chose a fresh and lemony 2008 Muralles de Monção, a blend of Alvarinho and Trajadura. Again a delicious combination, although less weight than you normally find with a pure Alvarinho.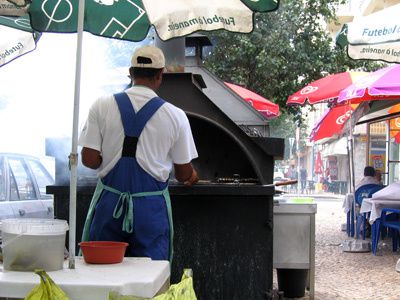 Grilling fish in Setubal
There is something wonderful about a long lunch even though it may well finish off the rest of the day but if lunch lasts long enough there won't be much left of the day anyway!
Last June three of went to La Chope in Tours, one the city's institutions (http://dev5.prowebserver.fr/) where we had a wonderful plateau de fruits de mer 'Royal'. And the wine – a 2007 Vieilles Vignes Muscadet-de-Sèvre-et-Maine sur-lie from Domaine Gadais (www.gadaispereetfils.fr). A memorable lunch and a memorable combination of wine and brilliant shellfish!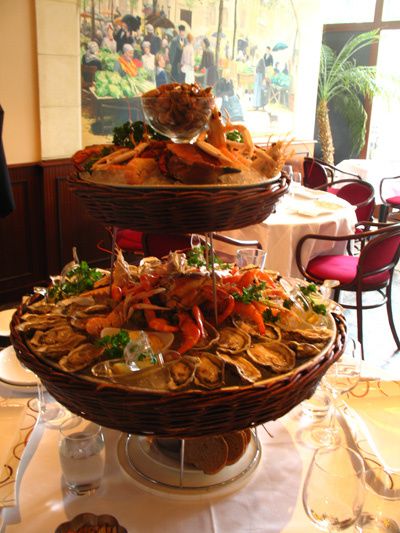 Plateau Royal


Stuff fashion!
(c) Jim Budd