20 avril 2010
2
20
/

04
/

avril
/

2010
07:24
Real Wine?

There is nothing like making a bold statement:

'Les Caves de Pyrène invites you to

"Real Wine"
A tasting of primarily biodynamic & organic wines'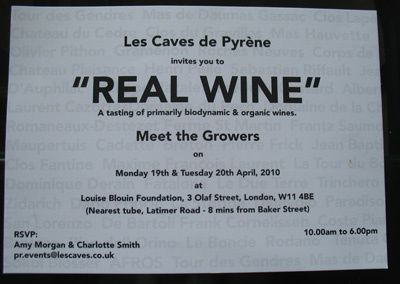 A statement
So what exactly is real wine? Closely allied, I think, to the notion of 'natural wines' – another concept that also begs questions. When followed to the letter the "Hands off – I leave the wine to make itself" approach leads to vinegar and probably poor quality vinegar at that.

Of course if there is 'real wine' there must presumably be 'unreal' or 'imaginary' wine. I guess imaginary wine means conjuring up mythical bottles you can't afford. "I suppose we had better open another bottle of '47 Cheval Blanc with the cheese." "Oh no! Not the 82 Petrus again..."

Today was Les Caves 'meet the growers' tasting. However it actually turned out to be meet a few of the growers as a different type of reality intervened: out of the 60 growers due to be present, 35 were KO'ed by volcanic ash.

Despite their strident trumpeting of 'real wine' Les Caves de Pyrène do have an exciting stable of producers. It is always interesting tasting 'real' or 'natural' wines as they often challenge one's prejudices. There does, however, come a point where a wine's faults overcome its virtues and topples over the edge into the undrinkable.

"Leave the wine to make itself..."

As is my wont I largely concentrated on the Loire and here with one notable exception the wines didn't remotely cross the line to undrinkability – almost all were decidedly mainstream. There were the good 2008 Menetou-Salons from Domaine Pellé, the attractive Vouvray's from Pierre and Catherine Breton – way better then their Bourgueils, which were easily eclipsed by a range from Domaine de la Chevalerie. Present also was Thierry Germain with his Saumur Blanc and range of Saumur-Champigny. I worry that Thierry in his pursuit of freshness and lower alcohol is flirting with picking too early.

The best range of wines came from Frantz Saumon – both the Montlouis from his own vineyard and the new négociant business – Un Saumon dans La Loire, which includes a Menu Pineau and a Romorantin. Both showing the precision that is a mark of Frantz's wines.

So the notable exception? The white Sancerres from Domaine Sébastien Riffault where the oxidation submerges both the grape variety and the terroir. It would be interesting to sit down and drink a glass or so of these wines but, despite what the label says, they are not Sancerre.

Riffault's wines are, however, nothing like as bizarre as two 2005 wines (Equiss and Franc de Pied) from Julien Courtois that I tasted last week. Apparently 'white' they were the colour of dishwater – a greyish tinge of brown that would look truly appealing in your best Riedel glasses! Clearly this is a hue, which is difficult to achieve in a youngish wine as these two wines retail at £31.60 (36€) each.

Chapeau to Julien for managing to sell faulty wine at a decidedly high price!

(c) Jim Budd