27 avril 2010
2
27
/

04
/

avril
/

2010
00:51
The UK General Election is now entering its final stages. We have the last leaders televised debate to come this Thursday and then on Thursday 6th May we will cast our votes – or rather those of us that bother to do so. Actually the percentage of the population voting may well be higher than in recent elections due to the interest in the three leadership debates.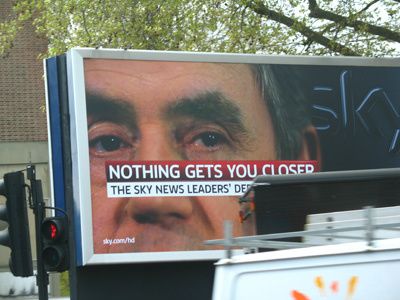 Poster advertising the Leaders' debate

For the first time ever, our leaders have agreed to a televised debate and to many people's surprise the debates have proved to be compelling television.

But enough of the politics, this post is about selecting appropriate wines for the three major parties according to their colours red (Labour), yellow-gold (Liberal Democrats) and blue (Conservative). This means that the first two are relatively straightforward.

Traditionally Labour would have been a full-bodied red – perhaps a Shiraz from Australia's Barossa Valley, a Nero d'Avola from Sicily or an Alicante Bouchet from either Languedoc or Roussillon. But New Labour rather changed that moving towards a much lighter red – a light Gamay from the Beaujolais or a Pinot Noir from Alsace or the German Ahr Valley.

Our decision to kick off the 1997 results night when Tony Blair was swept to power with a bottle of Pommery Rosé proved to be all too prophetic! Some would argue that now under Brown the appropriate red should be a little more full-bodied – a Valpolicella Classico perhaps?

The Liberal-Democrats golden yellow points towards a sweet wine as it is too highly coloured for a Sauvignon Blanc, Muscadet or a Pinot Grigio. I fancy the choice to be between a minerally Coteaux du Layon with enough acidity to carry off the sugar or a more cloying Sauternes. A decision on that may have to wait until after the election when we see what the Lib-Dems do if there is indeed a hung parliament.

Deep blue for the Conservatives inevitably poses problems narrowing the choice to Blue Nun – another brand that has been given a make-over!

Cheers!
(c) Jim Budd