28 février 2010
7
28
/

02
/

février
/

2010
00:01
It is always good when old acquaintances get in contact, especially if you have lost touch with them. So I was delighted to receive a few days ago an email – hotmail address, of course – from Raymond Affreux.
One of the things I do to fill, occasionally gainfully, the hours between 8am and 1am is to edit Circle Update, the newsletter of the Circle of Wine Writers (www.winewriters.org). The Circle is celebrating its 50th anniversary this year as the organisation was founded by the late Cyril Ray in 1960. The Circle now has some 276 members around the world – largely Anglophone but not entirely. For example our distinguished editor and member of Les 5 du Vin, Hervé, is not only a member but also on the committee.
Back in early 1991 I offered in a moment of extreme rashness to help with the Circle newsletter, which at that time appeared only intermittently. In just a couple of nano-seconds I found myself editor of the magazine and produced the first issue of Circle Update in April 1991. Nearly 20 years later I'm still in the editor's chair and the 95th edition was sent out to members electronically on Friday – we move with the times! But I digress – back to Raymond.
For many years Raymond wrote a gossip column – Les réflexions horizontales de Raymond Affreux: il faut gratter – for the Circle magazine. Mysteriously the copy would arrive at first in a brown paper envelope and then later by email – always a different hotmail account. A few years ago Raymond's contributions became more sparse and more occasional and then, sadly, ceased completely.
Now that Raymond is back in contact may be there will be more gossip – perhaps some that can be shared in this blog.
But enough build-up, here is Raymond's email:
'
Cher Jim

It has been a long time. How are you? In with Berthomeau, Lalau, young Smith and Vanhellemont, I see. An intriguing assemblage – although you have got fake Pinot Noir dreadfully wrong. But more of that in a minute.

Things have been difficult for me over the last two or three years. My sister, Soeur Grapes ran off with a sailor and naturally my parents – Mer Agitée and Pa Terrible – were dreadfully upset. They are getting old now, so this hit them hard. Fortunately my aunt – Tante Pis – is now living with them. I'm now working on an exciting new project with my brother – Frère Enough.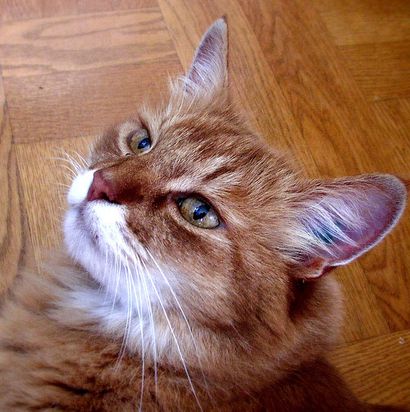 The Late Modération (Photo Cute Cat, by Per Ola Wiberg)



The last bit of family news is that my cat – Modération died a few months ago, so now I have a new Modération. I decided that cats are not really ideal pets as they are too independent and often not around when you want a glass of wine. So I have a new Modération – a green parrot (une perruche ondulée verte). Much more practical than the cat as la nouvelle Modération is always in the cage, so I can follow the precepts of la Loi Evian – à toujours consommer avec modération.

Jim, you'd be amazed to learn how popular a pet's name 'Modération' has become in France. According to the latest French animal census: "Recensement des animaux familiers en France métropolitaine 2009", Modération is easily the most popular name for all types of pet in mainland France – 28% more popular than the next: Sarko.



And the new one



I'm delighted with Modération as she accompanies my evenings with – "Santé", "Un petit canon? Oui, pourquoi pas?", "un verre de plus?" Il faut respecter des règles, n'est-ce pas?

Anyway, enough of me! Let's turn to the fake Pinot. As I say Jim – you are utterly wrong. As ever it's a cock up not a conspiracy! All down to a confusion of language as I'll explain.

When the people from Gallow and Catty visited Seer Dark to set up the bike project they demanded 200,000 hectolitres of 'Pinot Noir' in a very thick American accent. Unfortunately Alain Guider and Pierre Murk heard – "Presque Noir". Written down, of course, it looks unlikely but I can assure you this is what happened.

Guider and Murk were convinced that it would be no problem finding plenty of dark coloured wine. At this time they assumed that the new brand was going to be called Black Bicyclette – sort of retro with a nod at Monsieur Hulot's holidays.

Naturally Guider and Merc contacted their mate Claude Corset of Dukasse and in a very short time Corset, who knows the regional wine 'par coeur' was off scouring the countryside for as much dark coloured wine as he could find – Alicante Bouchet and the like.

Of course everyone was delighted: the French selling excess stock and the Americans with plenty of sweet, smooth-textured, deep coloured wine, which they assumed was typical of Pinot Noir from the Midi. After all, if they had wanted high acid, tannic Pinot, they would have gone to Burgundy! As I say everyone was happy until the French fraud squad carried out a routine check on Corset's offices in Carcassonne, when the linguistic confusion soon came to light et la merde entra dans le ventilateur!

So now you know la vraie faible intérieure!

A plus!

Raymond
Santé, Modération à tous.