1 juin 2010
2
01
/

06
/

juin
/

2010
00:02
Sad news this week to learn that Colin Parnell, the founding publisher of Decanter magazine has died. Colin had long since ceased had any involvement in magazine which is now owned by IPC and housed along with many other titles in a glass and steel office near to London's Tate Modern.
All a far cry from Decanter's original offices in Clapham Junction* I believe. The magazine was set up in 1975 by Colin and a hard-drinking Australian called Tony Lord. Tony predeceased Colin by some eight years dying in Western Australia in March 2002 at the age of 56 having sold his share in the magazine at the same time of Colin. Tony moved back to Western Australia where he set up a vineyard.
Colin, in contrast, appeared to gradually move away from the world of wine allowing Patricia, his wife who is younger, to take centre stage with her PR work for a number of leading wine brands. Colin along with Tony, however, leave behind them a legacy of founding the only consumer wine magazine based in the UK that has survived long term, although quarterly The World of Wine Wine may well be now there for the long haul.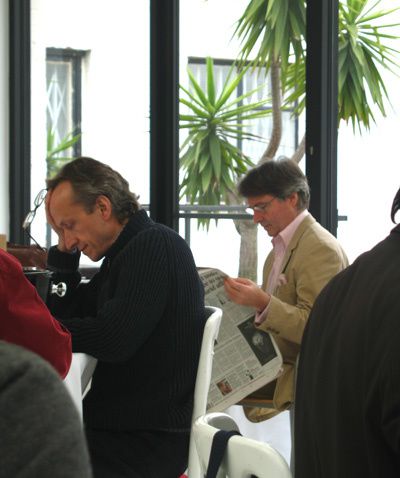 A climatic moment at ther Decanter World Wine Awards – Mister Cool (Steven Spurrier) reads a paper while Andrew Jefford agonises.
Indeed Decanter has prospered with a Chinese edition and is apparently sold in 96 countries around the world along with a substantial annual wine competition – the Decanter World Wine Awards. Founded in 2004 this now has in excess of 10,000 entries. The latest offshoot is Decanter Education, which was launched this May.
This is a very considerable achievement as there have been numerous food and wine magazines launched in the UK with considerable fanfare ­– Taste and A la Carte come to mind at the end of the 1980s – that are now just brief historical footnotes.
I think I started reading Decanter in the late 1970s or perhaps the early 1980s. Certainly I'm sure that I have a complete set from 1983 as I have long intended to have a look and see how the famous 1982 vintage was perceived then. I'm convinced that the idea that Robert Parker was the only critic who really got 1982 is a myth. This was the first Bordeaux vintage (and I have long since stopped) I bought en primeur. At the time I didn't know Robert Parker from a packet of crisps, so it is clear that my perception that 1982 was a stellar vintage came from someone else.
I guess I now owe it to Colin to do that piece of research as he was still at the helm when I started to write for Decanter.
* No I was right about the railway but it was in an arch close to Waterloo not Clapham Junction.