16 mars 2010
2
16
/

03
/

mars
/

2010
09:10
Has appellation contrôlée become anal contrôlée? Last Wednesday I ran a tasting of Loire wines for a small group at Green & Blue (http://www.greenandbluewines.com/), our local wine shop cum wine bar in South London. We started with a couple of Pierre Luneau's fine Muscadets: L'Or 1995 and 1993 as I wanted to show that Muscadet can age well, which is rather contrary to popular belief. In discussing the wines one of the tasters mentioned that he always looked on the label for sur lie as a sign of a top quality Muscadet. Incidentally both of Pierre's wines showed well – the 1993 leaner and more mineral, while the 1995 was richer – reflecting the two different vintages.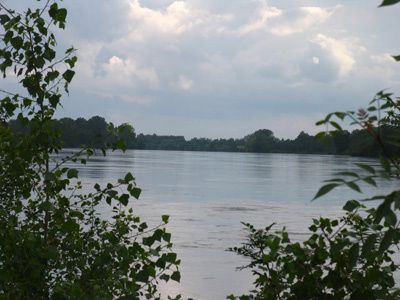 A view from the Loire
Next up was another Pierre Luneau wine – 2005 Excelsior a haute expression Muscadet from 65 year old vines planted in schistous soils in the commune of La Chapelle-Heulin It spends 36 months on its lees and is considered the equivalent of a 'Grand Cru' Muscadet – la crème de la crème from the Pays Nantais. Yet can you find a mention of sur lie anywhere on the label or back label? No! And why? Because it is against the sur lie rules!
The regulations require that for a Muscadet to be labelled sur lie it must be bottled between 1st March following the vintage and 30th November that same year. If it spends any longer on its lees then it cannot be called a sur lie. Completely mad but you can see the infernal logic!
There is a similar bout of insanity going on in Touraine. Under new rules the only variety that will be allowed for Touraine Blanc will be Sauvignon – either Blanc or Gris (also called Sauvignon Rose or Fie Gris). Admittedly Sauvignon is now the dominant variety in the vineyards east of Tours. However, historically it is not the dominant grape variety of the region. Prior to the 1920s when Sauvignon Blanc planting started there were a number of grape varieties, especially Chenin and Menu Pineau (also called Arbois).
Eastern Touraine is naturally the varietal melting pot of the Loire, where the grape varieties of Anjou-Saumur, meet and mingle with the varieties from the Centre Loire. Sadly the bureaucratic mind cannot cope with diversity. Instead everything has to be simplified – stuff patrimony and typicité!
This reform forgets that esca, the virulent vine disease, has a particular fondness for Sauvignon Blanc, whereas Menu Pineau, for example, is more resistant to the disease's ravages.
If historically you have a broad palette of varieties why narrow your options? Chardonnay used to be the height of fashion until people started to get fed up with it and the ABC (anything but Chardonnay) movement started. What happens in eastern Touraine if there is a similar reaction to the ubiquity of Sauvignon Blanc and the SOS – Sod Off Sauvignon – movement is born? Already there is growing concern that the New Zealanders may have planted too much SB.
Move to the western limits of Indre-et-Loire and the exclusion of Chenin Blanc from AC Touraine is particularly stupid. Here in communes, like Saint-Germain-sur-Vienne and Seuilly, Chenin is undeniably the historic white variety and continues to be the dominant white grape, as it is in nearby Chinon. Seuilly's favourite son, François Rabelais, was renowned for his fondness of Chenin Blanc – taffeta being François' greatest contribution to tasting notes. Here it looks like the stroke of a bureaucrat's pen will ensure that Chenin Blanc here will henceforth be labelled vin de pays or a vin de table.
Then there is the curious policy that insists that all the small VDQSs in the Loire's Central Vineyards are not allowed the produce 100% Gamay or 100% Pinot Noir when promoted to appellation contrôlée status. The price of entry to AC status is to accept a blend of Gamay and Pinot Noir, despite pure Pinot Noir often being the most successful red before promotion. This was certainly the case in the Coteaux de Giennois and probably in recently promoted Saint-Pourçain. Some have suggested that this bizarre blend is due to the insistence of more established, powerful ACs fearing competition. Why an AC such as Sancerre could possibly feel threatened by say the Coteaux de Giennois, Châteaumeillant or the Côtes d'Auvergne is entirely beyond me.
Very regrettably control freakery is dominant and anal contrôlée now rules.
(c) Jim Budd